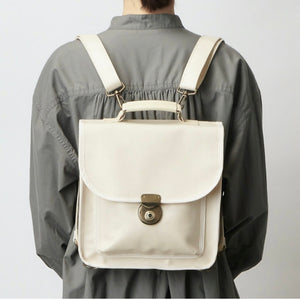 KENTO HASHIGUCHI
Olden square natural
Sale price Price $2,480.00 Regular price
◎ Product description
The iconic work of the brand, "olden," has been redesigned to give it a perfect size. It features a square shape and impressive metal fittings. The width of the length adjustment is made wider with a thick belt. It can be made longer and diagonally cut, or it can be made shorter and used like sacoche. Although it has a compact appearance, it can be used as a "long wallet" or a 500 ml plastic bottle, so it has a usable capacity.
◎ size
26 cm (wide) x 27 cm (long) x 8 cm (Gusset)/ Belt length 65-117 cm, width 5 cm
 Weight 450g
◎About the type of fabric
・Laminate Kinari (original canvas with PVC vinyl crimped on the surface of the canvas)
◎ Material used
Laminate Kurashiki canvas (100% cotton) (manufactured by Takeyari Co., Ltd.)
*About Takeyari's canvas The canvas used in this work is directly purchased from Takeyari, a well-established canvas factory with 120 years of history. Takeyari Co., Ltd. is a company that employs the old-fashioned shuttle loom (a primitive loom that mechanizes the work of hand-weaving), which is rarely seen in the world, and specializes in weaving sturdy and thick canvas. .. The quality of the material is first-class because it is woven with this machine and uses high quality made in Japan canvas that has passed the strict inspection of craftsmen. About Takeyari Co., Ltd. http://www.takeyari-tex.co.jp/index.html
Pre order item will be dispatched within a month.