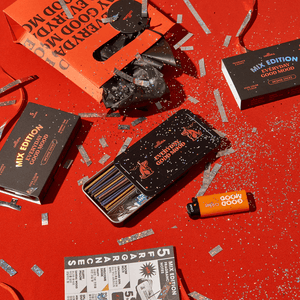 Collins
Collins incense sticks - Mix Edition
Sale price Price $180.00 Regular price
Collins Incense aims to make every precious moment a good mood that is remembered by their scents. This tin is an all-in-one product that combines the incense plate (tincase) and the incense clip, which functions as a holder so you don't need to buy or carry one so you can easily enjoy the incense anytime, anywhere. The tin protects the incense to keep it long-lasting and has space for a small lighter so you can light one on the bedside for a relaxing night at home or take it with you on the road for the right vibe anywhere.
Scent
5 signature incense sticks "Mix Edition"
The only product that allows you to enjoy 5 scents of <Collins Incense> in once arm.
This is a traditional Korean-style incense stick made from harmless natural ingredients that produce less soot and smoke than traditional Indian incense.
Fragrance
Room No.11 (Orchard Soil): A blend of woody and citrus reminiscent of the soil in the orchard. Charcoal sticks
Do Not Disturb (Floral): A subtle floral scent that suits a quiet moment of being alone. Purple sticks
Fluffy Pillow (Sandalwood): Provides a feeling of cozy rest. Brown sticks
Welcome Drink (Fruity): A fruity scent for a refreshing change of mood. Khaki sticks
Splash Diving (Aquatic): Aquatic scent that leaves a refreshing feeling. Olive sticks
Includes 70 incense sticks with 5 signature scents, 2 incense clips, a tin case to protect your incense and a quickstart guide.
Dimensions (cm): 10.5W x 6L x 1H (Incense sticks are 9.5cm)
Burn time: 15-20 mins
Made in Korea